So I woke up this morning in a great mood, I don't really know why. I work up around 8:30 with the sun filling my studio, I made coffee and left the house. and to my suprise it was a beautiful day out so I walked over to Lazy Daze and sat onthe patio enjoying my morning coffee and a book. A good way to start the morning i feel...
After I finished my coffee I went on a little walk of downtown luckly I had my digi on me and took a few pics on my morning walk...this make me giggle a little bit...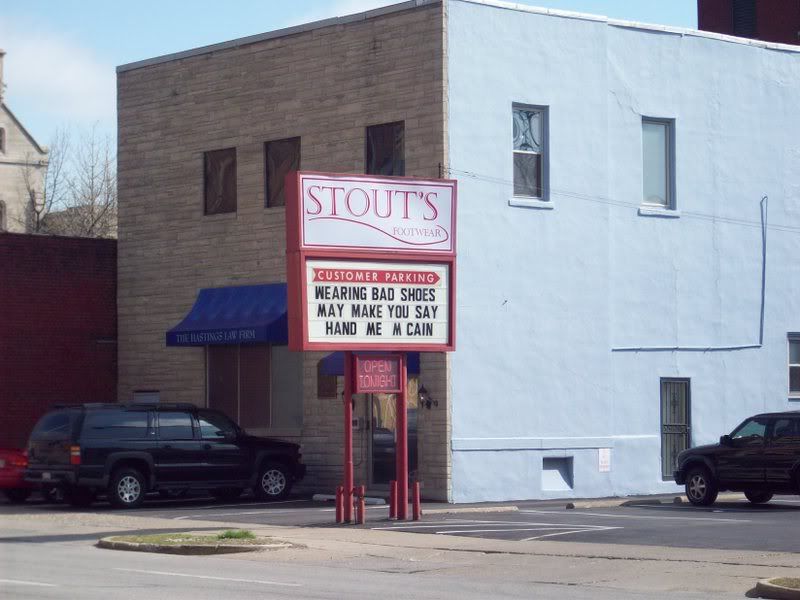 As you should know Indianapolis is becoming rather policical these days. We have a Obama office right off the circle and they are giving away Dave Mathew tickets for anyone that wants to register to vote...thank god I regestered forever ago...Incase you didnt know I'm not a fan of Dave...I know big shock, but I never got into him...
But I have been using these few days off at work for good. I have been knitting and fundraising so that's always a plus right. And I'm getting my peices designed for a show I'm putting together, so that's always fun right...
So I lost my scarf I make a few weeks back, not a big loss it took me a few hours to make. But I forgot that everyone else doesnt knit, I KNOW RIGHT! I popped into the lib to see if I left it there and the woamn behind the counter asked me what I lost and of course I said the first thing that popped into my head:
Me: It was a ladder lace scarf knit with black homespun, 4 ply with accent colors apox 8 feet long.
Her: Blank stare
Me: umm...I lost a black scarf...
Her: OOOHHH ok let me check
Needless to say it wasnt turned in, oh well I guess I have to knit myself a new one...
But on my "to do" list today...have tea with someone dangerous...wish me luck!